Adopt a Chimp and Change a Life
Welcome to Fauna's Adopt-a-Chimp program. By symbolically adopting a chimp (or a monkey!) today, you play an important role in their ongoing recovery. Proceeds from our Adopt‑a‑Chimp program go directly to providing critical health care and an enriched environment for our residents, giving them the quality of life they so greatly deserve.
Choose Your Adoption Package
Once you decide on your virtual "adoption" package, your next step will be to select which chimp (or monkey) you want to adopt. Prices are in Canadian dollars.
Our  Adopt-a-Chimp package is an environmentally-friendly, downloadable adoption kit, including a:
Full-color photo of your chosen chimp or monkey
Digital copy of their biography and history
The Fauna Annual Report
The Digital Adoption Kit is available to download immediately after purchase. The cost is $60 Canadian.
When you chose your resident and complete the donation, you will receive a confirmation email. This will contain a link to the adoption kit. When you click on this link, your kit will immediately download onto your computer.
---
Choose Your Chimp
Read their bios, get to know these incredible individuals, and decide on who to "adopt!"
---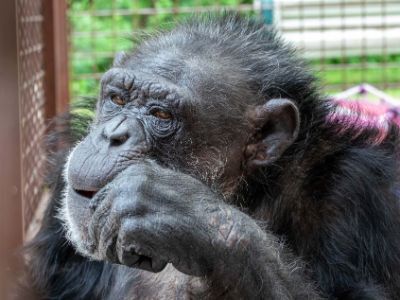 Why Adopt?
Whether retired from laboratory research, or rescued from zoos or other situations, the chimps and monkeys who call Fauna home have been given the chance to live and relax in peace. No longer confined to tiny cages or subjected to invasive experiments, they now delight in the simple pleasures of life: sunshine and fresh air on their faces, room to play and rest, plenty of special treats to eat, new things to discover… but most of all, the chance to be with friends and their family.
Chimpanzees and monkeys in captivity can become bored and restless if their environment does not change. To keep them mentally stimulated, we must continually expand and enhance their enclosures and provide enrichment activities for them to explore. Proceeds from our Adopt‑a‑Chimp program go directly to this important work.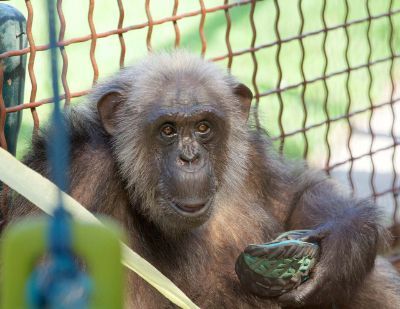 All combined, the Fauna Foundation chimps have survived approximately 250 years in biomedical research. The subjects of everything from liver biopsies to experimental HIV drugs, the majority of these chimps have spent some time in pain and isolation. Now that they are safely at Fauna, this is our opportunity to provide quality care for these special individuals in their much-deserved retirement.
We are caring for an aging population. All of the chimpanzees at Fauna are 30 years of age or older — which is geriatric, as the average age of death for captive and wild chimpanzees is 32 years of age. Much of their living costs are due to geriatric health needs like medication, special procedures, enclosure modifications, and specialized veterinary care. This costs more money than a younger, more healthful chimpanzee population would require. The cost of care for one chimpanzee is over $20,000 CDN per year. Proceeds from our Adopt-a-Chimp program go towards securing the best possible care for our residents for the rest of their lives.
Adopt-a-Chimp FAQ
Have a question that's not answered below? Ask and we'll be happy to answer.
WHERE IS MY ADOPTION PACKAGE?

When you completed the donation, you should have received a confirmation email from weblink.no.reply@softerware.com. If you don't see it, check your spam folder. This email will contain a link to the adoption kit. When you click on this link, your kit will immediately download onto your computer. Check where ever your downloads go. It is a zip file. Click on the zip file and it will open and you can see your package. Or you may need to right-click on the ZIP folder and select "extract all", it will open and you can see your package. If you have any questions, please contact us via email and we can email the kit to you.

IF I'VE ADOPTED MY CHIMP OR MONKEY, WHY CAN'T I TAKE HIM/HER HOME?

The term "adoption" really means sponsorship. When you adopt a chimpanzee or a monkey from Fauna, your contribution goes to help care for that individual — and in return, you receive detailed information about the chimp or monkey you have chosen to adopt.

Fauna's Sanctuary provides permanent, lifetime protection for these incredible individuals. The Fauna Foundation does not support the private ownership of chimpanzees or monkeys, ever.

HOW MUCH DOES AN ADOPTION PACKAGE COST?

Our digital Adoption Package is CDN$ 60. 

DO I GET A TAX RECEIPT IF I PURCHASE AN ADOPTION PACKAGE?

You will receive a tax receipt for a portion of the Adoption Package price. For the Digital kit you will receive a CDN$ 50 tax receipt.

IS THE ADOPTION FEE A ONE-TIME ONLY PURCHASE?

Yes. The Adoption Package fee is a one-time only cost.

IS AN ADOPTION KIT APPROPRIATE FOR CHILDREN?

Fauna's philosophy is to focus on the positive changes in the chimpanzees' lives since their arrival at the Sanctuary in 1997, or in the monkeys' since their arrival in 2005. However, all of their biographies do address their time in biomedical research and some of the abuse they experienced as circus performers, pets, or as participants in research labs or the entertainment industry. We encourage parents to read through the material before giving it to their children and use it to create a dialogue about these important issues.

The most important message children can take away from this virtual adoption program is that compassion can make a difference for the chimps and monkeys in our care, and for the future of those still in captivity.

I LIVE OUTSIDE OF CANADA. HOW MUCH DOES THE ADOPTION PACKAGE COST IN AMERICAN DOLLARS/BRITISH POUNDS/EUROS?

All adoption kits are priced in Canadian dollars. We cannot give you an accurate price in other currencies as conversion rates change on a daily basis.

If you are paying by credit card, the currency exchange rate is set by the credit card company on the day you make your purchase. The exchange rate will appear on your credit card statement.