Advocating for change
Fauna has a long history of advocating for our fellow beings.
Fauna was deeply involved in Project Release Chimps, which was instrumental in ending biomedical research for chimpanzees. We hope the same will be done for the thousands of monkeys still being used in research.
---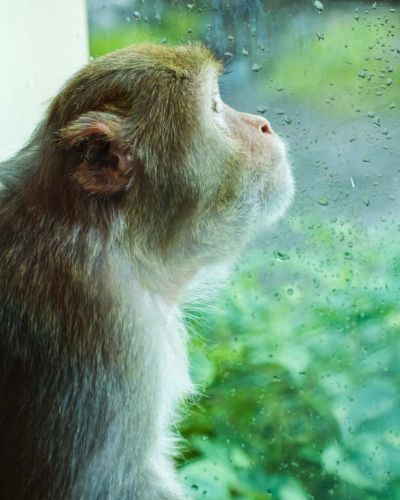 EDUCATION
Advocacy and Research
Many Universities in Canada, the United States, and around the world continue to use primates for invasive biomedical research, with little regard for the individual. Monkeys are still being extensively used in labs today and are subjected to horribly invasive procedures. They are "terminated" once the studies are done. Many more monkeys are victims of the pet trade industry or subjected to zoos, where they are used as attractions.
A large part of Fauna's advocacy work is to help end the use of chimps and monkeys for the purpose of research, entertainment, or as pets. Public outreach and education is an integral part of Fauna's mission. Fauna hosts and funds educational programs and outreach efforts in order to raise awareness and effect change. By donating today, you can help us continue this important work.

EDUCATION
Advocacy Groups
Here are some important advocacy groups related to primates, animal ethics, environmental conservation, wildlife conservation, and rescue. These are listed in no particular order. We hope you find them helpful.
Fauna Foundation is not responsible for the content or views expressed on third party websites. If you believe your organization has goals in common with us and might be a candidate for cross-linking on this page, please contact us.
Project R&R's mission is to end the use of chimpanzees in biomedical research and testing, and to help provide rescue and restitution in permanent sanctuary. Their website documents critical advocacy and educational information about chimps in captivity.

Founded in 2010 by the directors of seven leading chimpanzee sanctuaries in North America, NAPSA advances the welfare of captive primates through exceptional sanctuary care, collaboration and outreach.

GFAS does not operate animal sanctuaries, but rather helps sanctuaries help animals. GFAS has an international accreditation process for the humane care of various species in captive facilities and for sanctuary governance.

The Jane Goodall Institute of Canada is part of a global community conservation organization that advances the vision and work of Dr. Jane Goodall. Their primary mission to save chimpanzees from extinction.

Established in 1973, IPPL works for the well-being of primates. IPPL Field Representatives are in 31 countries with experts from the fields of zoology, anthropology, medicine, biology, veterinary medicine, and psychology.

Friends of Washoe is a nonprofit dedicated to the welfare of chimpanzees, and was the original home of chimpanzees Tatu and Loulis, the two remaining members of Washoe's family. Washoe, who passed away in October of 2007, was the first chimpanzee to learn a human language, ASL. Tatu and Loulis now live at Fauna Foundation.

Animal Alliance of Canada is committed to the protection of all animals and the promotion of a harmonious relationship among people, animals and the environment.

One Green Planet is an online guide to making conscious choices that help people, animals and the planet. Their goal is to foster choices around food and products that provide us with maximum benefit with minimum impact on the planet.

LPAG is a discussion group created by laboratory workers for laboratory workers and for the general public, with topics around laboratory primates, the people who work with them in the labs, our opposition to their use in biomedical research, and abolition and welfare.

The Whale Sanctuary Project is working on creating seaside sanctuaries in North America for orcas and beluga whales who are being retired from entertainment facilities or have been rescued from the ocean and need rehabilitation or permanent care.

Terry's Law is a movement dedicated to strengthening the Animal Cruelty legislation in Canada. To change the legislation requires the Government of Canada to change sections of the criminal code relating to animal cruelty.

Zoocheck Canada is a national animal protection charity established in 1984 to promote and protect the interests and well-being of wild animals. It is the only Canadian organization with a specific focus on captive wild animal issues and problems.

PETA is the largest animal rights organization in the world. PETA focuses on the four areas in which the largest numbers of animals suffer the most for the longest periods of time: on factory farms, in laboratories, in the clothing trade, and in the entertainment industry.

PASA is the largest association of wildlife centers in Africa. With a presence in 13 countries, PASA works to secure Africa's primates and their habitats and to protect chimpanzees, gorillas, bonobos, and monkeys from extinction.

Project ChimpCARE is a non-partisan group committed to improving the wellbeing of chimpanzees, regardless of current circumstances. They collaborate with diverse groups to build a better future for all chimps.

CCFA is dedicated to promoting the welfare of animals raised for food in Canada through public education, legislative change and consumer choice.

The Carapace Project helps turtles who are traveling on land and crossing roads so as to protect them from collisions or disturbance. If you spot a turtle in Quebec, let them know by filling out the form on their website.

This campaign helps align your organization's menu with its mission by adopting a formal policy regarding the types of food it serves… or doesn't serve!

Humane Society International works around the globe to promote the human-animal bond, rescue and protect dogs and cats, improve farm animal welfare, protect wildlife, promote animal-free testing and research, respond to natural disasters and confront cruelty to animals in all of its forms.

Since 1951, the Animal Welfare Institute has been dedicated to reducing animal suffering caused by people. They seek better treatment of animals everywhere— in the laboratory, on the farm, in commerce, at home, and in the wild.