About Loulis
Loulis is the eldest male but one would never guess given his love of chase games. He is quite small and boxy shaped, walking on his tiptoes. His back is very grey and he has a very unique, long face with two easily visible ridges on the top of his head.
This boy is quite a charmer. He can often be found in any are where humans are, watching them and asking for sweet kisses. He enjoys the pop-over tunnels in the kitchen, as well as any outdoor area with a view over everyone entering and exiting the building. He loves playing chase and tickle with his caregivers. He also spends a lot of time with his best friend and older sister, Tatu. They are pretty much inseparable and they spend a lot of time grooming, playing and interacting with friends.
Loulis is a sweet old soul. He tends to be shy and reserved at times. Like so many of the chimps at Fauna, he has fears of new spaces and new things, probably because he has always lived in a captive situation.
Loulis found a great friend in our late resident, Spock. They would spend hours grooming outside and playing chase.
---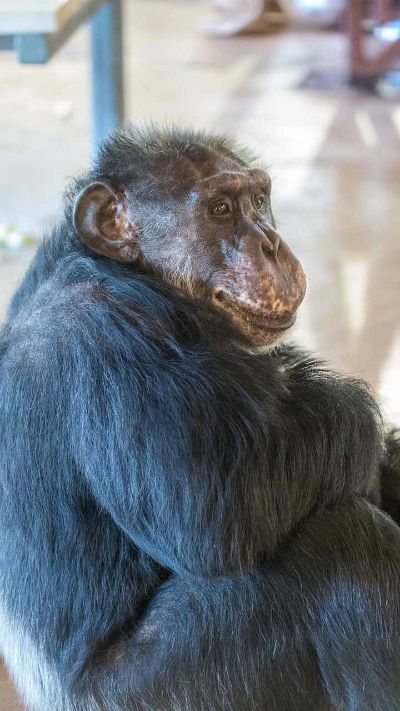 Loulis' Bio
Get to know this charming, sweet guy.
Birthday
May 10, 1978
Likes
Hardboiled eggs, warm drinks with honey, oatmeal with raisins, bananas and rice, and playing chase and tickle.
Dislikes
Repair men, a structured meal schedule (prefers to eat at his own time).
Did You Know?
Loulis' name comes from two laboratory workers at Yerkes named Lisa and Louise. His full name is Loulis Yerkes.
Fun Fact!
Loulis was the first non-human to learn language from another non-human.
Most Likely To...
Be spotted sitting on the mezzanine, watching folks enter and exit the Chimphouse because he loves people watching!
---
Loulis' History
Loulis was born at the Yerkes regional Primate Research center in Atlanta, Georgia. At 10 months old, he moved from Yerkes to Oklahoma where Washoe adopted him. Loulis was the first non-human to acquire human signs from another non-human. (Read more on Loulis' early life here.)
Gloria met Loulis in 1995 when he was living at the Chimpanzee and Human Communication Institute (CHCI) in Ellensburg, WA. He was living with his amazing mom, Washoe, and their extended family, Moja, Dar and Tatu. He was happy living in that wonderful family group, protected and cared for by Washoe. But over time, family members passed away — on June 8, 2002, Moja passed away, then five years later on October 30, 2007, his mother, Washoe died. Life must have changed dramatically for Loulis, losing the most important person in his life, his mom. Loulis still had Tatu and Dar, and this family of three became even closer than ever in the years thereafter.
In 2009, "Friends of Washoe" had begun conversations about the possibility of bringing more chimpanzees into CHCI, understanding completely the consequence of a smaller family, and plans were being made to allow such a move. Friends of Washoe had already been concerned about the future of Dar, Loulis and Tatu. The plans were made to modify and renovate the existing building to allow the introduction of a small group of chimpanzees to Loulis, Tatu and Dar.
Five years later, on November 24, 2012, Dar suddenly passed away, while Loulis and Tatu watched yet another family member leave them. How devastating for them as the family got smaller. Dar passed away just after the first phase of work was done, leaving everyone in a state of shock.
Suddenly plans needed to be accelerated, but sadly the University who owned the building procrastinated, not responding to the questions put forward by Friends of Washoe (who are the legal guardians of Loulis and Tatu, not the University). The University, however, had control of their home and they planned on evicting their famous residents. The University made it clear they did not want to provide a permanent home for the last two family members of Washoe — the remarkable chimpanzee who brought world wide attention to Central Washington University. For more than 30 years, Washoe and her family contributed to the reputation and the influx of students to the University. Now, one man and a small committee, going against the votes and support from the community, would make a decision that would change their lives forever. With no regard for their future or clearly for their past importance at the University, he would make the decision that would send the son of Washoe away forever, along with Tatu.
With time passing and sadness setting in, Friends of Washoe began to make plans, even before the final decision was made. Fearing the University would not go forward with the renovations, everyone was running out of time. Loulis was 35 years old and Tatu 37, so certainly they could live together for many more years. But what would happen if only one chimpanzee was left? How tragic and sad that could be.
Friends of Washoe secured a future for Loulis and Tatu here at Fauna. Other NAPSA (North American Primate Sanctuary Alliance) accredited sanctuaries were very willing to provide a home for Loulis and Tatu, but all needed funding and all needed time…and time was running out. Fauna had space and the perfect social situation to offer and so, Fauna was chosen as the new and permanent home for Loulis and Tatu. A bittersweet end indeed.
Soon upon arriving, Loulis and Tatu were introduced to Sue Ellen. They were immediately inseparable. Spock was also a great friend to both of them. Loulis and Spock would spend hours grooming, and playing outdoors.
Loulis has signed to Binky that he wants to play chase through the window. Binky plays with him and then they stop. Loulis has also shown interest in Maya, and Chance has been peeking at Loulis every chance she can get! We are working on more introductions for Loulis, but the process is slow and steady.
---

Love Loulis? "Adopt" Him!
You can personally help Loulis by "adopting" him through our Adopt‑a‑Chimp program! By adopting him today, you play an important role in Loulis' ongoing care. Chimpanzees in captivity can become bored and restless if their environment does not change. To keep the chimps mentally stimulated, we must continually expand and enhance their enclosures and provide enrichment activities for them to explore. Proceeds from our Adopt‑a‑Chimp program go directly to this very important work.
When you adopt, you'll receive a digital Adoption Package as a cherished keepsake. Packages include a full-color photo of your chimpanzee, their biography and history, and our latest annual report! You'll also feel really happy that you are providing so much goodness into the life of a captive chimpanzee.
For as little as CDN $60, you can be a VIP in Loulis' life!