About Tatu
Fluent in American Sign Language (ASL), Tatu is intelligent, outgoing and ever curious. She is small and dark with striking white hairs around her face and chin.
Tatu loves communicating with her human and chimp friends. She can often be found signing for her favorite things to caregivers or even signing to herself while looking through magazines. She is always reminding caregivers of the schedule — whether that be in terms of meal service or when it is time to move or go outside.
Tatu is fun and mischievous at the same time. She loves playing games that often involve teasing or scaring others. She is very fond of wearing masks and is often found carrying one around held close to her belly. She is also a determined planner. She has been spotted going outside to get long branches which she can then bring inside to use to fish for items. An intelligently bright tool-user, Tatu always keeps the caregivers on their toes.
As a big sister to Loulis, Tatu is always keeping a watchful eye over him and she is always there to protect him.
---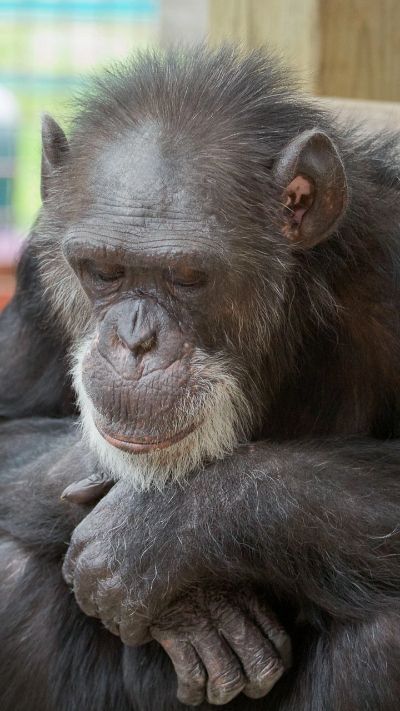 Tatu's Bio
Get to know this intelligent girl.
Birthday
December 30, 1975
Likes
Raw fruits and veggies, coffee, peanut butter sandwiches, grapes, corn, anything black, food magazines,  and wearing masks to "scare" caregivers for fun.
Dislikes
Loud people/noises, too much enthusiasm.
Did You Know?
Tatu's full name is Oklahoma Tatu, as Oklahoma was her place of birth and Tatu means "three" in Swahili.
Fun Fact!
She is aware of celebrations like Christmas, birthday's and Thanksgiving and refers to them with specific signs for SWEET TREE, ICE CREAM DAR, and BIRD MEAT, respectively.
Most Likely To...
Be 100 steps ahead of you!
---
Tatu's History
Tatu was born at the institute of Primate studies in Norman, Oklahoma. She was cross-fostered by Dr. Beatrix T. and R. Allen Garner from 1975-1981. She joined the Foutses (Washoe and the other chimpanzees) at Central Washington University in 1981. In August 2013, she and Loulis moved to Fauna.
Fauna Founder, Gloria Grow first met Tatu in 1995 while Tatu was living at CHCI. At that time, Tatu was living with her whole family; Washoe, Moja, Dar and Loulis. Gloria was there on an Earthwatch Mission for only two weeks, but each day they were given the opportunity to observe and document how the chimpanzees were using their space. It was a life-changing experience for her that changed her fate and destiny, as well as Tatu's.
Growing up in a cross-fostered environment has put her in a rather unusual position and given her a wide range of skills. She has so many human behaviors, yet is also completely chimp like. It makes one step back and scratch their head and say, "Who are you and why are you in there, locked behind bars?"
It was so hard to keep her from everyone while she was in quarantine when she first arrived at Fauna. Each day she would ask to go in with her closest neighbor, Sue Ellen, signing "In" and then "Friend." She clearly knew what she wanted and was ready to get started on her new life after her first days of sadness, after leaving her home and her friends in Ellensburg. Tatu is always ready for adventure and willing to meet new friends. When Tatu and Sue Ellen first met they greeted each other with a hug and were immediately inseparable.
Upon her arrival at Fauna, Tatu became great friends with our late resident, Spock. Kind, loving and loyal, Spock made the best of friends. Tatu, Loulis and Spock were all great friends. Playing chase, tickle, play wrestling and grooming, they lal spent a lot of time together.
No matter where she goes during the day and no matter how many new friends she makes through the bars, she spends the most time with Loulis. They have been family for many years and that bond is very, very strong. They don't spend each minute of each day together and that is normal, but they check in constantly. Tatu ventures off a little further than Loulis. She doesn't wait for him to follow; she goes and then she comes back. It is a good system and it is very comforting for both of them.
---

Love Tatu? "Adopt" Her!
You can personally help Tatu by "adopting" her through our Adopt‑a‑Chimp program! By adopting her today, you play an important role in Tatu's care. Chimpanzees in captivity can become bored and restless if their environment does not change. To keep the chimps mentally stimulated, we must continually expand and enhance their enclosures and provide enrichment activities for them to explore. Proceeds from our Adopt‑a‑Chimp program go directly to this very important work.
When you adopt, you'll receive a digital Adoption Package as a cherished keepsake. Packages include a full-color photo of your chimpanzee, their biography and history, and our latest annual report! You'll also feel really happy that you are providing so much goodness into the life of a captive chimpanzee.
For as little as CDN $60, you can be a VIP in Tatu's life!