About Sue Ellen
Fauna's matriarch, Sue Ellen is a remarkable chimpanzee whose life has been so hard for so long. It's hard to imagine that she has gone through such a life of cruelty when you look at her cute round ears and a tiny button nose.
Sue Ellen has displayed unparalleled resilience despite losing the use of her legs in 2018. Due to her ever-evolving lifestyle, she spends a lot of time with caregivers. They spend time serving her meals, grooming and interacting with her. Sue Ellen enjoys life's simple pleasures, such as sitting out in the morning sun and eating her breakfast leisurely while the day unfolds around her.
Sue Ellen is able to interact with her neighbours through the enclosures when she choses to do so. Sue Ellen is respected by all of her Fauna family. She loves to dress up like royalty. She is often found wearing scarves, beaded necklaces, purses or even something exotic, like a hula hoop wrapped around her waist.
---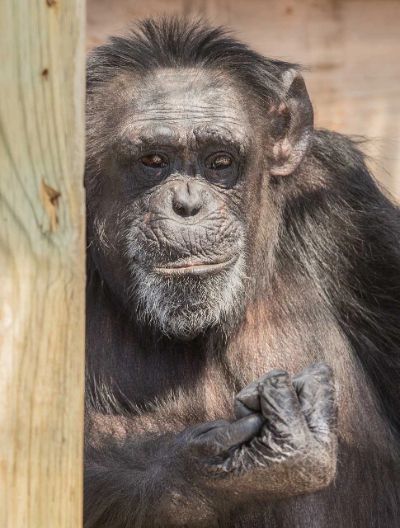 Sue Ellen's Bio
Get to know Fauna's matriarch.
Birthday
March 17, 1967
Likes
Grapes, seeds, jello, tomatoes, salted cucumbers, male caregivers and visitors, making nests by tearing sheets, and taking long naps.
Dislikes
If you accidentally move something near her, or being served with a straw.
Did You Know?
Sue Ellen was infected with HIV and was used in research to find a cure for AIDS (which proved futile as HIV+ never progressed into AIDS in our closest relative, the chimpanzee).
Fun Fact!
Sue Ellen loves men! Whether it's their deep voices or bearded faces, she definitely has an affinity towards the male sex.
Most Likely To...
Rip sheets over her head during nest preparation.
---
Sue Ellen's History
Sue Ellen is one of those chimpanzees who has crossed through many worlds…none of them the world she was born to be part of. She has lived many different lifestyles. She was first taken from her mother as a baby and raised by humans, where she was then forced into the entertainment world, where there is so much abuse and suffering. After 15 years in that life, she was sold again but this time to LEMSIP, a research laboratory, where she would be subjected to life in a small cage, frightened and scared all the time, abused and violated in some of the most unimaginable ways. She arrived at Fauna in 1997.
Over the years Sue Ellen has had many friends and many losses, each one taking another piece of her heart away with them. From the early years, her friends Billy Jo, Annie, Donna Rae, Tom, Pablo, Jeannie and more recently, her dear sweet Pepper. Looking back on the friendships she had, one can see how truly difficult her life has been. She was blessed to have these friends, but the loneliness she must feel is obvious.
In September of 2013, Sue Ellen had the opportunity to meet a new chimpanzee friend, Tatu, from Ellensburg, Washington. Tatu is one of the remaining group of chimpanzees who were taught American Sign Language (ASL) years ago in the sign language studies. Tatu and her chimpanzee brother, Loulis, have lost most of their family too. Tatu and Loulis arrived at Fauna on August 28, 2013 and since then have become dear friends to Sue Ellen.
Sue Ellen is the oldest resident and her lifestyle now at Fauna is quite laid back and relaxing. Her frail and arthritic body restricts her from living in a large social group, so quiet times with a new friend or two might be just the retirement she needs. In 2016 Fauna became home to two new chimpanzees, Dolly and Blackie. Both ladies were an immediate perfect fit for Sue Ellen. Unfortunately Blackie passed away, and while sad and bittersweet, it left a unique opportunity for Dolly and Sue's relationship to flourish, which it did until Dolly passed away in 2020.
---

Love Sue Ellen? "Adopt" Her!
You can personally help Sue Ellen by "adopting" her through our Adopt‑a‑Chimp program! By adopting her today, you play an important role in Sue Ellen's ongoing recovery. Chimpanzees in captivity can become bored and restless if their environment does not change. To keep the chimps mentally stimulated, we must continually expand and enhance their enclosures and provide enrichment activities for them to explore. Proceeds from our Adopt‑a‑Chimp program go directly to this very important work.
When you adopt, you'll receive a digital Adoption Package as a cherished keepsake. Packages include a full-color photo of your chimpanzee, their biography and history, and our latest annual report! You'll also feel really happy that you are providing so much goodness into the life of a captive chimpanzee.
For as little as CDN $60, you can be a VIP in Sue Ellen's life!