Our shopping wishlists for everyday items
You may purchase toys and much-needed supplies to help the chimps and monkeys. Our residents are offered enrichment on a daily basis at Fauna and the lists below contain many of their favourite things.
It is important that items are safe for the chimps, so please note our enrichment and toy donation restrictions below before you shop. Our caregivers regularly update these Amazon wishlists with things that are needed — it makes shopping fast and easy. If you are shopping from the U.S., be sure to shop using Amazon Smile.
In-kind donations of 25$ or more are eligible for tax receipts upon request. To receive acknowledgement and/or an electronic tax receipt, please  enter your email address in the gift message window on the Amazon website. Thank you for your kind generosity!
---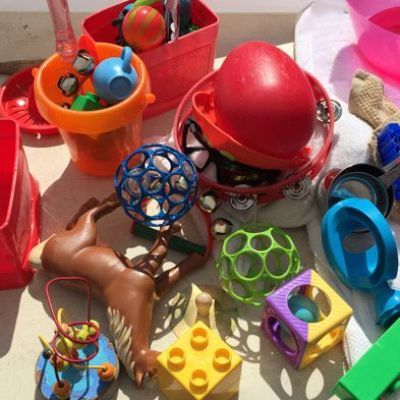 Restrictions To Note Before You Shop or Donate Items
Before donating any items or shopping for our chimps and residents, please note that we do have some restrictions on toys and other items to ensure chimpanzee safety, including:
No glass
No breakable mirrors (plastic ones are okay)
No soft rubber, foam or plastic (i.e. plastic bags) as several chimps enjoy consuming these, which is dangerous
All items must be NEW and we cannot accept any used items due to health and safety reasons
Please also review our list of Non-Donatable Items at the bottom of this page. If you are unsure of whether an item is safe or donatable or not, contact us and we will be happy to assist you.
Enrichment Supplies Needed

Toys

Plastic toy shovels and toy rakes
Scrub brushes (no rubber handles, only hard plastic)
Hula hoops
Puppets
Spray bottles
Water guns
Flutes and other hard plastic musical instruments (i.e. tambourines, etc.)
Wooden toys
Kongs (for dogs)
Non-toxic paint (i.e. Crayola paint)
Paint brushes and canvases
Crayons and coloring books
Boomer balls

Containers & Tubing

Plastic bowls, plates, cups
Garden hoses
PVC tubing
Straws
Plastic kid pools
Plastic sand buckets

Dress-Up Objects

Jewelry and necklaces (big, colourful, plastic- no metal)
Masks (dress-up type)
Sunglasses
Watches
Socks
Lipstick (non-toxic and cruelty free)

Grooming Objects

Hairbrushes and combs (wooden and plastic)
Plastic mirrors
Nail files and nail grooming kits
Back scratchers
Construction Paper
Brown Jute string
Construction paper
Large rolls of brown or white paper
Magazines
Paper bags
Tissue paper (for gift wrapping)
Wrapping paper
Tape (masking, scotch, big rolls of plastic tape)
Streamers
Scissors
Glue (i.e. glue sticks, liquid)
Paper
Envelopes
Sharpie markers
Dry-erase markers
Clip boards
Pens

Enrichment-Making & Office Supplies

Construction Paper
Brown Jute string
Balloons for making pinatas
Construction paper
Large rolls of brown or white paper
Magazines
Paper bags
Tissue paper (for gift wrapping)
Wrapping paper
Tape (masking, scotch, big rolls of plastic tape)
Streamers
Scissors
Glue (i.e. glue sticks, liquid)
Paper
Envelopes
Sharpie markers
Dry-erase markers
Clip boards
Pens

Kitchen Supplies

Food & Grocery

Steel Cut Oats (not quick-cook oats)
Buckwheat
Quinoa
Bulgur Wheat
Millet
Teff
Amaranth
Nutritional Yeast (any brand except Yellow Superfood)
Pepitas
Pumpkin Seeds
Chia Seeds
Raw Cashews
Raw Almonds (out of shell)
Natural Almond Butter
Raw Mixed Nuts (out of shell)
Sunflower Seeds (out of shell)
Grapeseed Oil
Coconut Oil
Tahini
Grape juice
Paper Dixie cups (small)

Cleaning Supplies

Dish soap
Scrubbie sponges
Brooms
Squeegees for windows

Other Items

Maintenance

Shovels and rakes
Rope
Zip ties

Electronics & Big Items

New laptop
iPad
Heated rubber mats (for skywalks, to keep little toes warm in the winter)
Golf carts
Pick-up truck

Gift Cards

We always welcome gift cards from places like:

Jean Coutu
Walmart
Staples
Costco
Home Depot
Canadian Tire
BMR
Michael's

Non-Donatable Items

While we are extremely grateful for the generosity of our supporters, the following are non-donatable items that we cannot accept. This is for reasons of health, sanitation and safety of the primates. If you are unsure of whether an item is safe or not, contact us and we will be happy to assist you.



Items we CANNOT accept:

Diapers
Baby formula
Junk food
Opened food containers
Food not in original packaging (e.g., food in ziplock bags)
Water enhancers (e.g., MIO, crystal light, etc)
Breakable items (i.e. glass, porcelain, ceramics, mirrors, etc.)
Empty medication bottles
Recyclable (empty) food and drink containers

Additionally, we cannot accept USED items, such as:

Used bedding (i.e., blankets, sheets)
Used towels
Used pillows
Used toys
Newspapers
Toiletries (i.e., shampoo bottles, soap bottles, etc)
Toilet paper rolls and paper towel rolls
Wipe containers (i.e., Huggies)
Tupperware