Fauna is a protected sanctuary for former biomedical research chimpanzees and neglected, abused farm and domestic animals.
Through sanctuary, conservation and education, we aim to foster a better understanding of all animals while exploring our ethical responsibility as humans for the well-being of all earth's creatures.
Fauna's Mission
Sanctuary

To provide lifetime care and to advocate for abused, neglected and exploited domestic and exotic non-human animals, including chimpanzees.

Conservation

To restore, preserve and protect the native flora and fauna of the Ruisseau Robert Nature Reserve and surrounding environment.

Education

To foster a better understanding of our local flora and fauna through education, and thus foster change.
---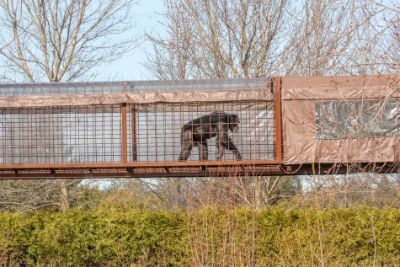 ABOUT FAUNA
The Sanctuary
The Fauna Foundation Sanctuary is a place of refuge for animals who have come to us from the wild, from private homes, and from the medical research, agriculture and entertainment industries. We are Canada's only chimpanzee sanctuary. In addition to chimpanzees, Fauna is home a monkey and a a flock of domestic geese. Fauna's Sanctuary provides permanent, lifetime protection for these incredible individuals.
READ MORE ABOUT OUR WORK IN HEALING AND PROVIDING COMPASSIONATE CARE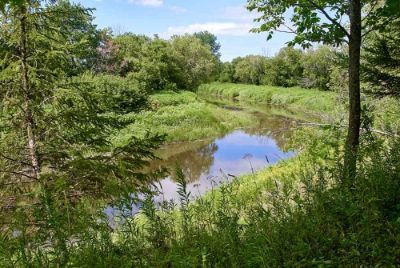 ABOUT FAUNA
The Nature Reserve
Our environmental protection values are just as strong as our commitment and dedication to Fauna's captive residents. These beliefs as well as the necessity to offer sanctuary to all kinds of residents, including birds and wildlife was what led to the Québec government to designate Fauna land as the Réserve Naturelle du Ruisseau-Robert. Originally encompassing 100 acres of land, the property has grown significantly, providing protected space for birds and other wildlife populations to thrive and flourish.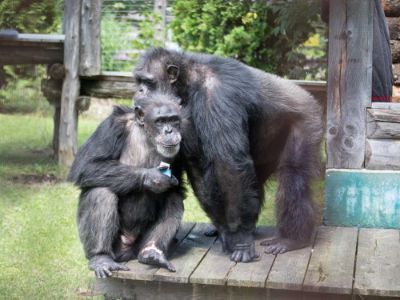 ABOUT FAUNA
Education & Outreach
Public outreach and education is an integral part of Fauna's mission. We run programs at Fauna, in schools, and virtually. Through our Fauna internships, presentations, workshops and events, we create a forum for information and education. Our Sanctuary residents are living testaments of the effects of medical research or standard intensive farming practices on animals. By making this information and experience available to interested groups, we raise awareness about the need for greater legal and ethical protections for animals and the environment.