SPOCK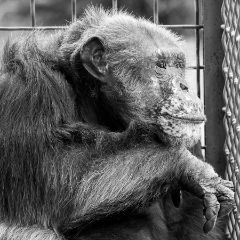 1976–2017
Spock flourished in his life at Fauna. He was befriended by many of his fellow residents and found a place within some groups. He was a remarkable chimpanzee and brought much love and kindness into the lives of all the chimps. Spock passed away from congestive heart failure early December 2017 at the age of 41.
When Spock came to Fauna in November 2007, he arrived with his close friends, Sophie and Maya. In April 2008, not long after they arrived, Sophie passed away. This loss was hard on Spock, but thankfully he had Maya still in his world and a wonderful new friend in Tom.
From the moment Spock and Tom met, it seemed they had known each other for years. They were connected in a deeply special way and for Tom, it seemed Spock was the chimpanzee soulmate he had been looking for for a long time.
With Tom providing the daily support and love he needed, Spock's new life began rather quickly. His days were spent laughing, playing and bonding with Tom. It often seemed as though they were long-time soulmates. It seemed more like a reunion, rather than a first meeting. Their relationship was a blessed one and it put Spock in a great position with the group. Tom's relationships with all the younger fellows was secure and wonderful. In his welcoming of Spock, Tom made introductions to this new fellow so much easier. Jethro and Binky learnt to respect Spock. Spock, like Tom, had a fatherly way about him. His fabulous social skills were a blessing in this environment; he picked up where Annie, Tom and Pepper left off.
Spock was always up for fun — like grooming sessions, hanging out or eating with the group. His food grunts were contagious, as were his greetings. When Spock was happy about something, the others were too. He let everyone know.
When Spock would retreat to a private space, that was his way of saying he preferred to be left alone. As social as Spock was, when he wanted privacy, he was serious, and did not like to be disturbed. It was the only thing he really ever asked for. Since Spock had heart problems, it was rare he was a part of larger, more dynamic groups. Instead, he preferred smaller, more intimate groups.
When Tatu and Loulis arrived, they were the perfect companions for Spock. Prior to that, Spock had spent a lot of time with Binky and Maya, but as he aged and his heart condition worsened, being with dynamo Binky wasn't the best for Spock. Tatu and Loulis lived at a more leisurely pace. Spock enjoyed their company and they found a best friend in Spock. He was kind and patient, and playful!
His passing was not easy on anyone at Fauna — chimp and human friends alike. He was truly one of a kind and will forever be missed.