PABLO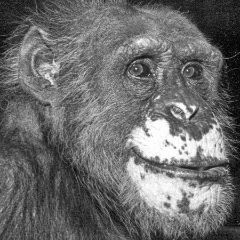 1970–2001
Images and memories of Pablo still haunt me, my first encounter with adult male chimpanzees in a bio medical research facility was most horrifying and eye opening. Memories, images, sounds and smells I can never erase, or forget. Pablo was there, screaming in fear one moment, his gums going white, his face distorted, hugging himself and trying to self sooth…reaching out to anyone who might help. Then within moments he would displaying in anger, forcefully banging on his cage, filling his mouth with water to spit on anyone in his way…emotions raging, all his systems in full gear, that was Pablo…a mixture of emotions, all out of control, no safe place and no way to release his anger, or feel vulnerable and secure. Providing a loving and safe home for Pablo, if even for a short time is one of my greatest accomplishments.
Pablo's story is one that, sadly, is shared by many chimpanzees who have been in bio medical research. It is a story of pain, suffering and overuse. During Pablo's time in research he was subjected to much more than he should have been and, because of his uncooperative behavior, he suffered greatly.
Pablo was not alone when he started his journey into hell. He had companions. I do not know how long he spent with them or where they came from originally, but according to the records, he was born in 1970, possibly in captivity. He then spent some years with two other chimpanzees named Tiger and Lisa, also around the same age, and they performed with a carnival family based in Edmund, Oklahoma. Maybe they were together all that time, it doesn't say, but we know they all ended up in a bad place. All three chimpanzees were given to the Institute for Primate Studies, in Norman Oklahoma (Dr. Lemmon).
Both Pablo and Tiger arrived with their incisors extracted and their canine teeth cut off at the gum line, which was very typical for chimpanzees used in entertainment. Pablo was 11 years old at the time. The files reflect that Pablo and Tiger had provoked fear in their handler and so were given up. They were kept on lines or leashes for years after they arrived in Norman and both were considered good "breeders." Tiger was very aggressive and did bite an institute employee who had aggravated him unduly under the false impression that the absence of visible teeth meant that he couldn't bite.
On February 12, 1981 Pablo was either sold or given to the Laboratory for Experimental Medicine and Surgery in Primates (LEMSIP). It seems he went alone, although Lisa was also eventually sold to LEMSIP. There was no further mention of Tiger's name in the records.
Pablo's file reflects that for over 16 years he was subjected to multiple darts in a single session and that he was forced to undergo excessive amounts of invasive research. The procedures were varied and Pablo would be subjected to weekly routines that might include liver punch biopsies and stomach gavages. There were monthly knockdowns for cage changes, routine physicals and teeth cleanings. There were also ongoing invasive procedures such as open liver wedge biopsies, lymph node biopsies, bone marrow biopsies, exposure too Hepatitis, and then ultimately, the last and most invasive: exposure to, and infection from, the HIV virus. They called him a "Hardcore Research Animal," and after reading his medical file I can understand why.
 
"Out of the suffering have emerged the strongest souls; the most massive characters with scars." —Khalil Gibran
On the day of his death, October 6, 2001, a writer by the name of Joe D'Agnese was at Fauna doing a story on the "surplus chimpanzee" situation in the USA. He wrote a brilliant article on what he saw that day and told the world about Pablo and his cousins. It made a difference and it helped change the way people were thinking. We shared Pablo's medical records in 2001 after his premature death at the young age of 31. It is a difficult story, as the level of cruelty he endured was beyond what any soul should be subjected to. For that reason alone, his story needed to be told–over and over again–so that his suffering and his difficult life would not be in vain.
When the world learned of the cruelty and the pain that Pablo was subjected to, people got angry and questioned the methods and the practices of research labs around the country. It shed light on the other chimpanzees still inside and forced the research community to take responsibility for unnecessary and unethical suffering. This included the excessive use of individual chimpanzees, the isolation, the accidents, the repeated darts and the lack of supervision and care. The public and the government stepped in and demanded change. People began to fight for the victims of research, for those faces that had never been seen and those stories never told. It is much more difficult to ignore the truth when we hear first hand about the practices of research laboratories.
Pablo suffered greatly as a result of his life in research. He never gave in. He was tough, he was mean, he was in pain, and he was unforgiving in the lab. We must never forget him if we are to help others and understand their pain. Pablo's story mirrors that of so many chimpanzees still in research…the misunderstood "mean males" who are abused in unimaginable ways. Remember Pablo. Remember his suffering and his courageous story.