JETHRO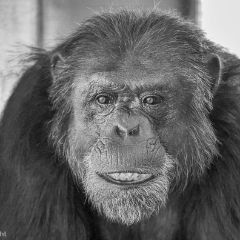 1989–2020
 
"Change happens by listening and then starting a dialogue with the people who are doing something you don't believe is right." ‑Jane Goodall
Jethro was a friend to all chimps and humans alike. Tall, dark and muscular, he was the largest male at Fauna yet the youngest. When standing bipedal, Jethro was very large and tall and he often pursed his lips. He was incredibly patient and even-tempered despite his presiding presence.
Jethro was a very easy-going chimp. He was both soft yet strong, loyal, loving and patient. He was a great mediator — he hated fights and would do anything to stop them. As a friend to all, Jethro was a master of fission-fusion societies. He could be with just about anyone.
As the baby of the group, Jethro used his status wisely. He supported his family, protected them, preferred to break up fights and needed to be loved. Jethro was wise beyond his years, super social and very kind. He loved visiting, socialize and grooming and spent hours with his chimpanzee family.
Born on August 23, 1989, Jethro was the youngest of Fauna's family by three months. He and Binky were only eight years old when they came in 1997. He was involved in three physically grueling studies that spanned over eight long years, involving isolation from his family members.
Jethro was the most social and socially-skilled of all our youngsters. Annie, our former Fauna matriarch, had a great hand in that. All accounts from LEMSIP (Laboratory for Experimental Medicine and Surgery in Primates) say that Jethro was always a wonderful, loyal and sensible friend to his chimpanzee family. He was one of the more fortunate in his group and given the opportunity to spend time in social groups for more years than some of the others. From the time he was born in the lab, until he was about six years old, he was able to live with other youngsters. It was this that gave him the chance to acquire some valuable social skills — skills that helped him become one of the most loved and respected chimpanzees at Fauna.
Jethro, along with Annie, was responsible for creating one of the most valuable lifestyles at Fauna: a fission-fusion society. There is nothing more important in the life of a captive chimp than choice. The choice to move, to sleep, to select preferred foods, to go inside or stay outside, to choose a friend to spend the day with, or not. Jethro got to make choices and often did. He moved around a lot, knew how to ask for what he wanted, and taught others how to do the very same thing. He learned all this from Annie.
Jethro had a good relationship with every chimpanzee at Fauna, including former chimpanzees who have lived here. He was kind and loving with Tom and learned so much from him over the years. He adored Pepper, and admired Sue Ellen from afar. His relationship with Spock was one of great respect and kindness. He loved spending time with Spock and Maya. He also shared some special times with Yoko before Yoko's passing.
However, he has always been close to Regis, who was his best friend and like a brother to him. They spent time together play wrestling, roughhousing and chasing one another. They also spent a lot of quiet time together as well, grooming and napping. They were very respectful of each other's space and took turns when it come to meal time. Jethro was also Binky's sidekick. Together they were the two youngest at Fauna, and they loved to play rough.
Respectful and kind, Jethro was the perfect candidate for new introductions. He was one of the first to meet Dolly and Blackie. He was interested in them from afar, watching and trying to groom them through the enclosures. When they finally met it was no different than seeing old friend reunite.
It's been such a lesson for everyone at Fauna to witness the maturity, wisdom and teachings of Jethro. He has led Fauna's chimpanzees into new and better lives over the years — helping to provide diversity, change, challenge, exploration and great growth. With his strength and supportive nature he was wise beyond his years