DARLA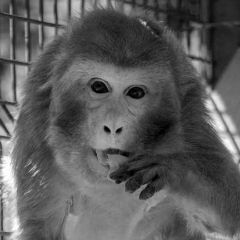 2022
Darla was a very emotional rhesus macaque. She shared the indoor-outdoor enclosures of the Fauna monkey house with her friend and fellow rhesus macaque, Newton. Darla, like so many other monkeys currently being used inside university and private research facilities, was captured in the wild.
Darla had two tattoos across her chest, a sad reminder of the time she spent in research. Living in labs at Queen's University in Canada, Darla was first subjected to a 15-year-long menstrual study that involved her receiving a complete hysterectomy. When this invasive research was finished, she received her second tattoo after being moved into an eating-disorder study. As subjects in anorexia trials, Darla and the other monkeys were deprived of food, and therefore would fight with each other for what little there was. It was during this research study that Darla lost her tail.
Monkeys are still being used extensively in labs today and are subjected to horribly invasive procedures. Darla is an Ambassador for the Campaign to End Monkey Research at Queen's. Hers is also one of the many stories told in the documentary film, Maximum Tolerated Dose. The film charts the lives of both humans and non-humans who have experienced animal testing first-hand.
Luckily, Darla was rescued from the lab in 2005 by Fauna and lived the rest of her life in peace in the Fauna Monkey House, enjoying the large indoor and outdoor enclosures surrounded by lush tropical gardens. There are still thousands of monkeys in labs. It is time to get them all out!