Fauna's Intern Programs
Our rigorous internships combine training in compassionate care for nonhuman primates with experience in non-invasive behavioral studies.

Typically, we offer two different intern programs. The Visiting Intern Program is an intensive 9-week summer program attracting applicants worldwide. Academic Internships are remote research experiences. Our philosophy is that the needs of our Sanctuary residents come first and this core belief is practiced in internships. Our programs are suitable for undergraduate, graduate and postgraduate students in various academic backgrounds (e.g. Anthropology, Biology, Psychology, Linguistics, Philosophy, etc.).
---
Visiting Intern Program
During this 9-week program, interns are at the Fauna Sanctuary daily. They receive training and experience in safe procedures to work around adult non-human primates, particularly chimpanzees. Interns assist in preparing meals and enrichment, cleaning enclosures, performing housekeeping, and participating in a non-invasive behavioral study. The first week is online training in protocols, procedures, and understanding chimpanzee behaviors. The second week, interns will begin onsite training. After several weeks each intern becomes more autonomous and has responsibilities in care and behavioral study.
The program cost is $2200.00 Canadian dollars. Costs do not include travel and food. The program fee supports the costs of staffing for the program and directly supports the mission of Fauna Foundation. Intern are responsible for providing their own housing and daily transportation to the sanctuary.
Requirements: Applicants must be fluent in English, have completed at least one year of university level education or two years of CÉGEP, and must be 18 years of age or older. American Sign Language and French are helpful. The application fee is $30.00 and must be included with the application. Visiting interns are required to provide proof of a negative TB skin test, full COVID vaccine including boosted, and tetanus vaccination prior to arrival. Interns and all staff will wear masks at all times on the sanctuary property.
Interns will be required a COVID low risk lifestyle for two weeks before the on-site program begins and for the duration of the on-site program. This includes avoiding large crowds, particularly indoors, and wearing a mask in public indoor spaces and crowded outdoor spaces where social distancing is not insured.
2023 PROGRAM DATES
June 5 to August 4, 2023.
The first week of the program June 5-9 is online training with daily live zoom meeting. Intern begin on-site training June 12, 2023.
At this time we are anticipating COVID infection rates in Quebec will be low in summer 2023. If there is an increase in cases, we reserve the right to cancel the program.
All deposits and fee would be 100% refunded.
The application deadline is extended to April 28, 2023.
Application fees will not be refunded.
For any questions, please contact Dr. Mary Lee Jensvold at jensvold@faunafoundation.org.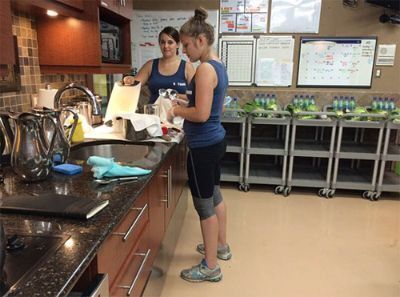 Academic Internships
Fauna Foundation offers remote internships for university level students.
Students may arrange research or internship credits through their own university. For more information about academic internships, please contact Dr. Mary Lee Jensvold at jensvold@faunafoundation.org.