About Maya
It takes Maya some time to let her guard down. Her piercing beautiful eyes reveal her kind soul. Compared to the other chimps, Maya's hair is lighter and thinner. She has a large pink scar on her foot from past traumas. If she wants something she will let her caregivers know by banging on the caging. She is incredibly intelligent and if you spend enough time with her to gain her trust she is incredibly kind and attentive.
Maya enjoys lying in the sun, taking as many naps as possible. She loves spending time with friends. She was extremely close to her late friend, Spock. They spent years together at the Quebec City Zoo and then came here together. Unfortunately since his passing, Maya has had to strengthen her bonds with her other family members. She spends a lot of time with Binky. They seem to have a pretty good dynamic and whenever he gets too rambunctious for her she will sneak away to a tunnel or front room. Jethro and Regis are also very fond of Maya, she seems to capture the attention of the males very easily.
Tatu and Loulis have also shown interest in Maya quite a few times. Tatu is often caught signing IN when Maya is near a door. They have met a couple of times. For some reason, Tatu and Maya become slightly less interested in one another once the doors open, yet Loulis is very fond of grooming Maya.
---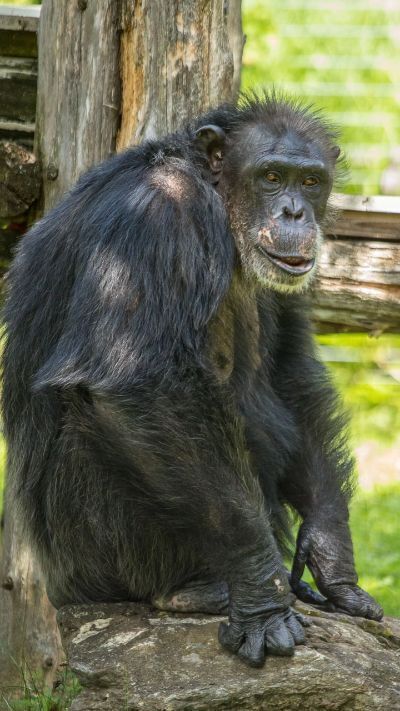 Maya's Bio
Get to know this beautiful girl.
Birthday
July 8, 1977
Likes
Afternoon naps in the sun, oranges, drinks of any kind, sunflower seeds, and being told she is beautiful.
Dislikes
Waiting for food or interactions (got to be quick!), Chia seed pudding.
Did You Know?
She understands both English and French.
Fun Fact!
Maya loves drinking from the hose!
Most Likely To...
Be eating a citrus fruit.
---
Maya's History
Maya was born at the Institute for Primate Studies in Oklahoma then sold to the University of Montréal for cross-fostering research. After the research ended, she was donated to the Québec City Zoo, where she lived for 25 years. She arrived at Fauna in 2007 with Spock and Sophie.
Maya is a beautiful chimpanzee, but a troubled one. Her years in a zoo and being cross-fostered as a youngster have left her confused and angry. Maya has always been the low-ranking chimpanzee in her group. In the early years, she had another companion and friend named Merlin. So it was Maya and Merlin, Spock and Sophie paired up, and when Merlin died, it left her as the third wheel in Spock and Sophie's life. They were very close and when Sophie came to Fauna, it was easy to see she was the alpha of the group and Maya was not.
Sophie passed away soon after her move to Fauna and therefore she was not there to help Maya fit into Fauna's family of chimpanzees. She had Spock to depend on and very soon after Binky became very close to her also. She seemed to enjoy time with Toby, and of course Jethro. Introductions to Rachel and Chance have been difficult, their emotional problems tend to hinder these new friendships, but they have interactions with Maya through protected areas. Maya got along quite well with Petra and that was wonderful.
So, for now her relationships with Fauna's male population are quite secure, but as she knows all too well, it is a bond with the girls that secures your fate and future. Each day Maya feels she belongs more and each day she works on her relationships with her chimpanzee neighbors.
---

Love Maya? "Adopt" Her!
You can personally help Maya by "adopting" her through our Adopt‑a‑Chimp program! By adopting her today, you play an important role in Maya's ongoing recovery. Chimpanzees in captivity can become bored and restless if their environment does not change. To keep the chimps mentally stimulated, we must continually expand and enhance their enclosures and provide enrichment activities for them to explore. Proceeds from our Adopt‑a‑Chimp program go directly to this very important work.
When you adopt, you'll receive a digital Adoption Package as a cherished keepsake. Packages include a full-color photo of your chimpanzee, their biography and history, and our latest annual report! You'll also feel really happy that you are providing so much goodness into the life of a captive chimpanzee.
For as little as CDN $60, you can be a VIP in Maya's life!