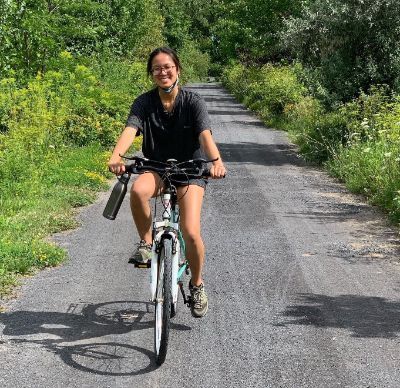 Takeaways from my internship at Fauna
DECEMBER 6, 2022
IN FAUNA PEOPLE & PROGRAMS
BY ANDREA SOLYMOSS
Participating in the Visiting Intern Program offered by Fauna was the highlight of my summer. During my 9 weeks working at the sanctuary, I learned many valuable skills and had incredible experiences that I believe could not have been made in any other setting.
Having lived in Montreal my whole life, I am very used to the big city. Therefore, coming to Fauna every day this summer was incredibly refreshing and allowed me to reflect on the importance of undeveloped green spaces and how they impact conservation efforts. As an environmental science student, working in this oasis-like environment was a very enriching experience.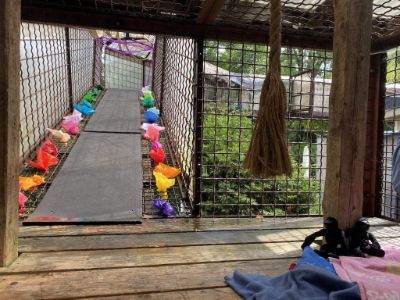 This internship experience was full of unforgettable moments. I had never spent so much time in the presence of chimpanzees, and I am glad I got the opportunity to learn so much about them. I got both the academic and the hands-on experience of discovering chimp behaviour as well as the necessary safety training in working around non-human primates. I also gained new perspectives after working at Fauna since I got to form an understanding of the similarities and differences we have with our next of kin.
In addition, I learned many aspects of husbandry and I gained so much respect for all animal caregivers. I really underestimated the amount of physical and emotional labour that is needed in this profession. One of my favourite parts of the day was watching the chimps enjoy the enrichment I had prepared for them after I had cleaned their enclosures. Also, connecting with all the residents of the sanctuary was extremely rewarding as it was like making new friends. Each had their own story, so it was also an opportunity to practice understanding and be one of the people that helped them lead the best life possible.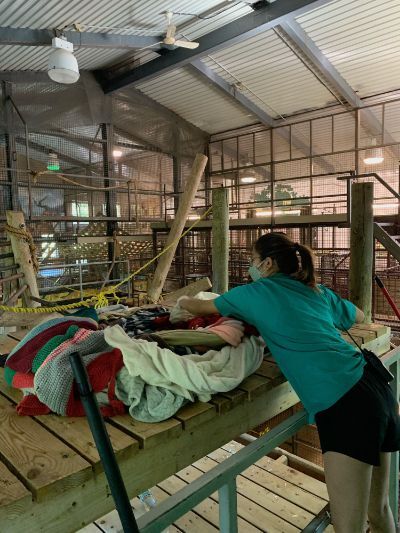 One of the aspects that made this internship so enjoyable was the Fauna staff. Everyone was incredibly friendly and helpful. It was evident that Fauna really put a lot of care and effort into upholding their values. As Fauna is a place of sanctuary that cultivates a peaceful and conflict free environment for the residents to thrive, this created a great environment to work in. Fauna's values of sanctuary, education and conservation are evident throughout the whole property and the staff. The Fauna chef even prepares delicious vegan dishes for the residents and the staff which reflects the foundation's respect for all living beings.
In short, interning at Fauna was a very unique experience. I really enjoyed learning all about chimps and working at a non-profit that held similar values to mine. It was truly incredible to participate in Fauna's mission and be part of a project with such a positive impact.
---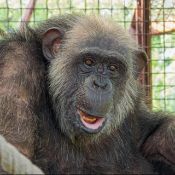 Andrea Solymoss