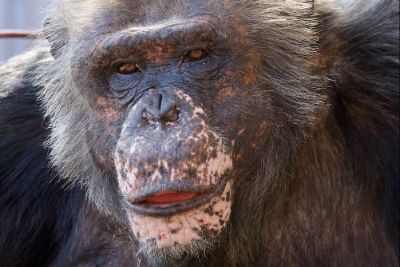 A time of firsts
DECEMBER 29, 2021
IN FAUNA CONSERVANCY
BY FAUNA FOUNDATION
These past two years, most of us have all been forced to experience many "firsts".
First global pandemic, first lockdown, first curfew. First classes, family dinners and birthday parties on Zoom, first time wearing masks for prolonged periods of time.
When public health measures were first put in place, many people saw a parallel between people in lockdown and captive animals. That obviously made me think of my Fauna friends. I imagine that what we felt, which was particularly intense in the first few months (and is still present on and off after almost 2 years, as the situation evolves and we deal with the different challenges this virus throws our way), is similar to what captive animals feel during their entire life. I believe this to be true for all captive animals – in the farming industry, in biomedical research, in the entertainment industry and for those who are kept as pets in unfit conditions. This feeling of being powerless, of having no control over what happens to you, of having other people making decisions for you – and having no other choice but to hope that these decisions are for the best. In our case, it's temporary, but in their case, it's for life. Not all animals are lucky enough to find peace in a sanctuary like Fauna, a place where their well-being is at the center of every decision and every action.
---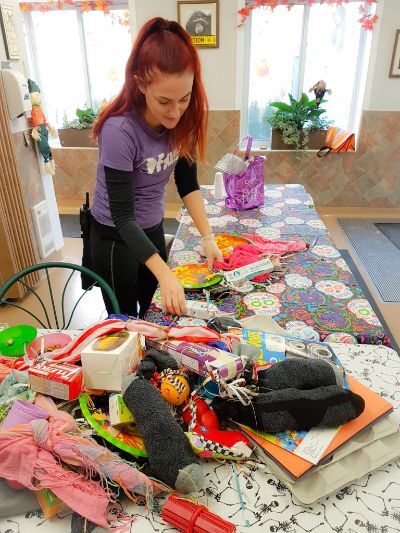 On a lighter note, this time of "firsts" made me think of all the "firsts" I experienced at Fauna. The first time I heard about the Foundation, sometime in the late 90's in a newspaper article. It left a profound mark in my teenage mind, and I made a promise to myself that I would go there one day. The first time I set foot on the sanctuary grounds, for an outdoors visit with my parents, was in 2001. It was already so impressive back then, even before all the improvements that were made over the years. I remember "meeting" Billy Jo and Jeannie, among others. Then, almost a decade later, after I moved to the Montréal area, the first time I volunteered at Fauna. This was the first of countless times; I started by doing work outside on the property grounds, before eventually moving to enrichment making for the residents and then volunteering in the chimphouse. This is another very special set of firsts – first time in the chimphouse, first time smelling that indescribable odour, first time feeling the presence of the chimpanzees, first time hearing the sounds that resonate in that unique building.
After considerable hours in the chimphouse and thorough training, there also came another special moment: the first time a chimpanzee allowed me to look into his eyes – I mean actually look into his eyes (from a safe distance, of course). There is a "before" and an "after" this moment, as I think is the case for everyone that has experienced this. In my case, it was with Spock that I first had the privilege of sharing such a moment. Spock, who has left us since, was a very special person.
There was also the first time I got to meet the other primates – I met five over time : Darla, Newton, Sophie, Theo and Eugene. They lived peacefully in the monkeyhouse, away from the action of the chimphouse.
Then there was the first time a chimp greeted me, the first time I prepared nut bags, the first time I played chase with a chimp, the first time I enjoyed hearing chewing sounds (if it comes from a human, forget it, but if it's a chimp, no problem!), the first time I washed dishes in the chimphouse, the first time a chimp I had the luck of knowing passed away. There were so many moments over the next ten years – happy, funny, sad, touching, surprising, devastating, heartwarming.
Then the pandemic happened, and for the first time in over a decade, I had to stop going to Fauna. I fully support the decision to restrict access to the sanctuary to protect the residents, of course, but it still felt very strange. Some of us volunteers did what we could to help from a distance, doing administrative or office tasks. The staff kept us informed on a regular basis, and the caregivers organized a nice holiday Zoom call so we could see the chimps via videochat.
The next year was a bit of a rollercoaster, as Fauna had no choice but to follow the ever-changing public health guidelines to ensure their residents' safety. Then came the day of a wonderful first – the first time I could go back when the sanctuary could finally reopen the volunteer program! It was amazing to see my non-human and human friends again. I never thought I would miss the chimphouse smell so much! As I write this, we are again facing a spike in cases and the program has to be put on hold once more. This is unfortunate, but whatever happens, I will be there when doors reopen – because Fauna and its residents have become a treasured part of my life.
As long as I am able, I will be a Fauna volunteer.
Marie-Pierre Bonin
Marie-Pierre has been a volunteer at the Fauna Foundation since 2011. She has a background in psychology, behavioural ecology and translation. Apart from volunteering at Fauna, she loves travelling, gardening and playing percussions.
---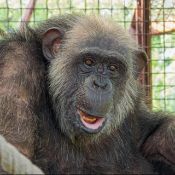 Fauna Foundation
The Caregiving & Support Team at Fauna